The Neurobehavioral Research Laboratory and Clinic provides career development and training in for students at all levels.  Many of our former trainee's have gone on to successful post-secondary education programs and continue thier careers in human health research or healthcare.
The NRLC provides a fertile ground for career development because of the diversity of patient populations and research tools students are exposed to and because of our strong interest in mentorship.  The following is a description of opportunities that are available.  
Research Career Opportunities

The NRLC is a great place to start a research career.  As a research assistant at the NRLC, you obtain hands on experience in conducting human psychophysiological experiments.  Many of our research assistants use their time at the NRLC as a launching point for further education in biomedical fields.  Some of our past research assistants have gone on to graduate school in Neuropsychology, Physician Assistant studies, and Medical School.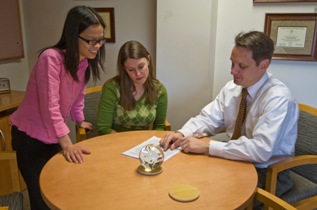 The Neurobehavioral Research Laboratory and Clinic currently is hiring for a variety of positions. The following is a description of our current openings along with their requisition number. These jobs can be applied for by their requisition number at:
https://www.uthscsajobs.com/applicants/jsp/shared/
Social Science Research Associate I
Requisition Number – 20090344
This position assists with compilation and preparation of materials for research project involving human participants, and also assists in conducting research projects. Responsibilities involve gathering data from self-report measures, interviews, laboratory behavioral tasks, measures of attention and cognition. This research involves work with both healthy individuals and patients experiencing psychopathology. Work is performed at the Neurobehavioral Research Laboratory and Clinic (NRLC), Psychiatry Department or other facilities designed for clinic research.
Research Coordinator I
Requisition Number – 20090348
This position will be responsible for the supervision of the overall operations of various clinical research studies in Psychiatry and to ensure that study sites follow protocol guidelines. This involves planning, scheduling, and coordination of administrative matters related to a grant-funded research project.
Statistician
Requisition Number – 20090355
The Neurobehavioral Research Laboratory and Clinic in the Department of Psychiatry at UTHSCSA conducts research aimed at increasing the understanding of the behavioral, biological, and physiological processes that lead to maladaptive behaviors such as alcohol abuse, suicide, and drug use. This position will provide professional skills necessary for the collection, analysis, and reporting of statistical data. The individual in this position is responsible for the application of standard, descriptive and inferential statistical methods for conducting analysis, preparing reports, providing power and sample size estimates, data analysis and presentation of analysis.

Volunteer Positions
The NRLC is always looking for volunteers. For a listing of volunteer opportunities, please contact the NRLC.
Student Opportunities
The NRLC frequently has opportunities for high school and undergraduate students to grain experience in human psychological and biological research.  In addition, graudate and medical students have opportunty to complete research rotations at the NRLC.  Please contact the NRLC to learn more about training opportunities.
photo courtesy of ©W.F.U./Ken Bennett

back to top